Food Banks Canada Releases Hunger Count Report 2011
As per the latest report, 900,000 people require food banks each month in Canada
Food Banks Canada (FBC) have released their Hunger Count 2011 Report which details statistics on hunger and on those relying on their services in Canada and how needs are being met. FBC, along with provincial organizations, soup kitchens, and other food programs have assembled data on charitable needs since 1997. The findings this year paint a rather grim picture of what hunger and poverty currently looks like in Canada.
Each month, close to 900,000 Canadians are assisted by food banks. Who is turning to food banks? There is no single, typical profile as the people helped include:
Families with children;
Employed people whose wages are not sufficient to cover basic living essentials;
Individuals on social assistance; and
Canadians living on a fixed income, including people with disabilities and seniors.
Consider these figures from Hunger Count 2011:
93,000 people each month access a food bank for the first time;
38% of those turning to food banks are children and youth;
7% of adults helped are over age 65;
10% of people assisted are Aboriginal;
52% of households helped receive social assistance;
18% have income from current or recent employment;
13% receive disability-related income supports;
35% of food banks ran out of food during the survey period; and
55% of food banks needed to cut back on the amount of food provided to each household
These are a few of the recommendations outlined in the report:
Working with social assistance beneficiaries and other stakeholders to design an income support system to help our most vulnerable citizens become self-sufficient and to ensure they are not left to live in poverty;
Improving Employment Insurance to better recognize and support Canadians in non-standard forms of employment and older workers facing permanent layoff from long-tenure positions;
Prioritizing, at the federal government level, the need to drastically improve the labour statistics of disadvantaged workers;
Investing in a system of high-quality, affordable accessible early learning and child care.
How can I help?
It is not simply the government that can help – those who are able can do their part as well. For every $1 donated, FBC is able to acquire and share $8 worth of food. That's incredible bang for your buck plus you are making a real difference in the lives of people in your community and across Canada – no contribution is too small. You can help the food banks in a variety of ways such as:
Making a financial donation;
Volunteering your time;
Arranging a large-scale donation of food or goods from your company or organizing a food drive;
Donate your unwanted handheld device;
Educate others; and
Advocate on behalf of low income Canadians.
The private sector is standing up to help FBC as well and some corporate initiatives benefitting FBC include:
Kraft Food for families will donate $1.00 for every name added to their site with the goal of donating $50,000.00. Kraft will also donate $10,000.00 to the food bank with the most votes;
CitiFinancial's Customer Appreciation Days includes food drives at all 214 branches across Canada for employees and customers to donate non-perishable food to be donated to the local food bank in the area collected and donating $50,000.00 to FBC;
Colgate Palmolive's "Let's Dirty Some Dishes" donates $0.25 from the sale of each 739 ml bottle of Palmolive Ultra dish liquid to FBC from September 25th-December 31st, 2011;
Huggies Every Little Bottom Program continues this year to assist the 1 in 5 families that struggle to acquire diapers. In 2010, they donated 2.5 million diapers in Canada;
Quaker's Programs donate an oatmeal breakfast to FBC for every person that plays their Facebook game and also for every box of Quaker brand products purchased from October 16 to November 20, 2011. Their goal is to donate one million oatmeal breakfasts;
Loblaw Extra Helping National Food Drive collecting non-perishable food items and monetary donations: Nov. 25 – Dec. 15: West, Ontario, Atlantic and Nov. 22 – Dec. 24: Quebec;
The CP Holiday Train every dollar raised in Canada and US goes to support local Food Banks in each community.
This report sheds a startling light on hunger in Canada and there is still much that can be done to help. Every person and every business that is able to help should support our food banks especially in these harsh economic times. If you are not able to contribute money then lending your time is just as valuable. The bottom line is that there are so many Canadians – children – in need of something as basic as food and this report helps to put that into startling perspective.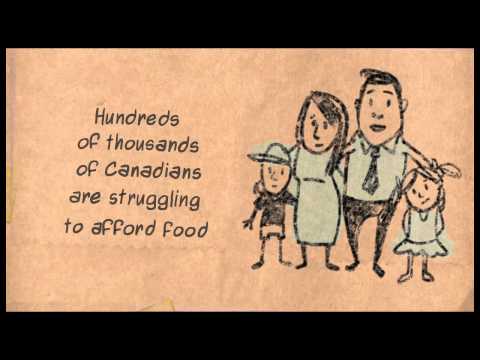 ________________________________________________________________________________________
For nonprofit, CSR business, digital and other news,please connect with us on Twitter, Facebook and Linkedin or subscribe to our RSS feed.
Miratel Solutions is a Toronto call centre, eBusiness, and letter shop mail house specializing in professional fundraising services including telephone fundraising, online fundraising, lottery services, donation caging, donation processing and other donor management services. We are committed to our CSR business values in all contact centre services and mail house operations and advancing the missions of the nonprofits we proudly serve.