Help Launch the Giving Season Today with #GivingTuesday™
November 27, 2012 |
Filed under: CSR,CSR Business,CSR Canada,Fundraising Services,News,Non-profit fundraising,Online Fundraising,Philanthropy,Social Media for Nonprofit Fundraising,Telephone Fundraising |
Posted by: Elyse
Black Friday and Cyber Monday are the days following the American Thanksgiving and mark the official start of the holiday gift-buying season. These days are traditionally known for early morning line-ups (in-person and online) to get the best deals while they last. This tradition has slowly drifted north of the boarder and Canadian retailers have now gotten in on the sales by adopting this tradition as well. If there are 2 days for getting deals to launch the shopping holiday season, why not have 1 day to launch the giving holiday season? Canada declared November 15th National Fundraising Day for the first time this year and having it extend into the holiday season makes perfect sense.
This why today, Tuesday November 27, 2012, is being dubbed #GivingTuesday and is hoping to become the official start of the giving season. The mission of GivingTuesday™ is "a campaign to create a national day of giving at the start of the annual holiday season. It celebrates and encourages charitable activities that support nonprofit organizations."
The idea for #GivingTuesday began at New York City's 92nd Street Y, who brought 139 years of charitable expertise to the idea and joining them was The United Nations Foundation. Since then countless others have joined and given their support of the project as Endorsers including Encouraging Corporate Philanthropy; Dorothy A. Johnson Center on Philanthropy; Giving Institute; Giving USA Foundation; InterAction; and Lodestar Center for Philanthropy and Nonprofit Innovation. Featured partners include Unilever and DoSomething.org.
Many nonprofits have joined #GivingTuesday as partners and fall into two categories as they are "either [a] 501(c)3 planning a #GivingTuesday initiative, or you are a for-profit corporation, school, religious or community group committed to spearheading a project that will benefit at least one 501(c)3." #GivingTuesday is not a nonprofit organization but rather an umbrella project and partners are responsible for their own initiatives.
The #GivingTuesday website has a host of ideas of how any person, group, organization or nonprofit can get involved in the project. For nonprofits and communities they recommend looking to what other organizations like DoSomething.Org, Benevolent.Net, The Bob Woodruff Foundation and Stamford Animal Rescue are doing. For individuals and families you could do something as simple as donate the surplus goods you have in your home, whether food or clothing, to local institutions, hold a neighbourhood bake sale or yard sale and donate the proceeds to charity. Another great way to get children thinking about giving back is to "take out a calendar and mark four days on the calendar (one in each season works well) that are not connected to traditional holidays. Donate food to your local food pantry on those days. Most places are flooded with donations of gifts and food around the holidays. It's the other times in the year that are more challenging." If you're a business owner or want to bring this to your place of work you could work #GivingTuesday into your CSR business initiatives. A great way to do this would be to "increase the company match of a current dollar-for-dollar employee matching gift policy or launch a new program on #GivingTuesday." These are just a few #GivingTuesday ideas but many more are available online.
#GivingTuesday is a great way of reminding everyone what the holiday season is really about. Some may automatically associate giving with shopping and traditional gifts so this also brings the idea of giving to another level. The holidays are about more than just giving presents to those you know and love, but also helping those who are less fortunate or the charities you support.
This event is happening across the most popular social media sites like Facebook, Twitter, Pinterest, Youtube, and Tumblr. If you are participating in #GivingTuesday be sure to write about it using the hashtag (#) across your social media networks to help spread the word about this new giving tradition.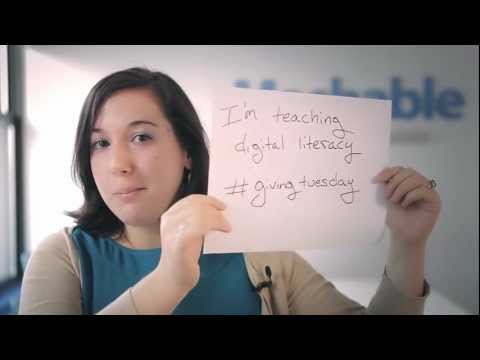 ____________________________________________________________________________________
For nonprofit, nonprofit fundraising, CSR business and other news, connect with us on Twitter, Facebook, Linedin, Google+ and Pinterest or subscribe to our RSS feed.
Miratel Solutions is a Toronto call centre, eBusiness, and letter shop mail house specializing in professional fundraising services including telephone fundraising, online fundraising, lottery services, donation caging, donation processing and other donor management services. We are committed to our CSR business values in all contact centre services and mail house operations and advancing the missions of the nonprofits we proudly serve.